I'd like to think that I'm fun boss. I work hard to bring humor and levity to the office, and I'm sure that's why I was voted the World's Best Boss. However, sometimes when I run a meeting, I feel like my jokes are too funny and can actually distract from the content. Presentation Wit helped me write jokes that underscore the points I'm trying to make, rather than draw attention away from them. I look forward to using them again and again. That's what she said.
Michael Scott Dunder Mifflin
[fa icon="quote-right"]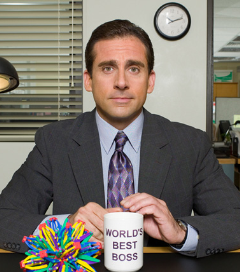 Personalized jokes for your presentation.
Send us your slide deck and what you plan to say, and let us do the rest. We'll come up with foolproof (or maybe we should say dullproof) jokes that will delight and entertain your audience.
Let's work together from start to finish to make an hilarious, visually engaging, and memorable presentation. We'll work with you to write the jokes, coach you on your delivery, and prepare you for the greatest presentation of your life.
My mother has always thought I was funny, but for some reason, my jokes didn't seem to resonate around the water cooler. With the help of Presentation Wit, I was able to present my case to the jury in a way that none of them will ever forget.
Norman Bates Bates Motel
[fa icon="quote-right"]